Back to Basics, Back to Nature, Back to you.
24 September – 01 October 2022
This retreat will be hosted in English

For our second edition of our Tantra & Yoga retreat we are moving to the beautiful National Parc of Sierra de las Nieves in Spain.
In this gorgeous natural environment you'll find time to unwind, relax, learn and connect.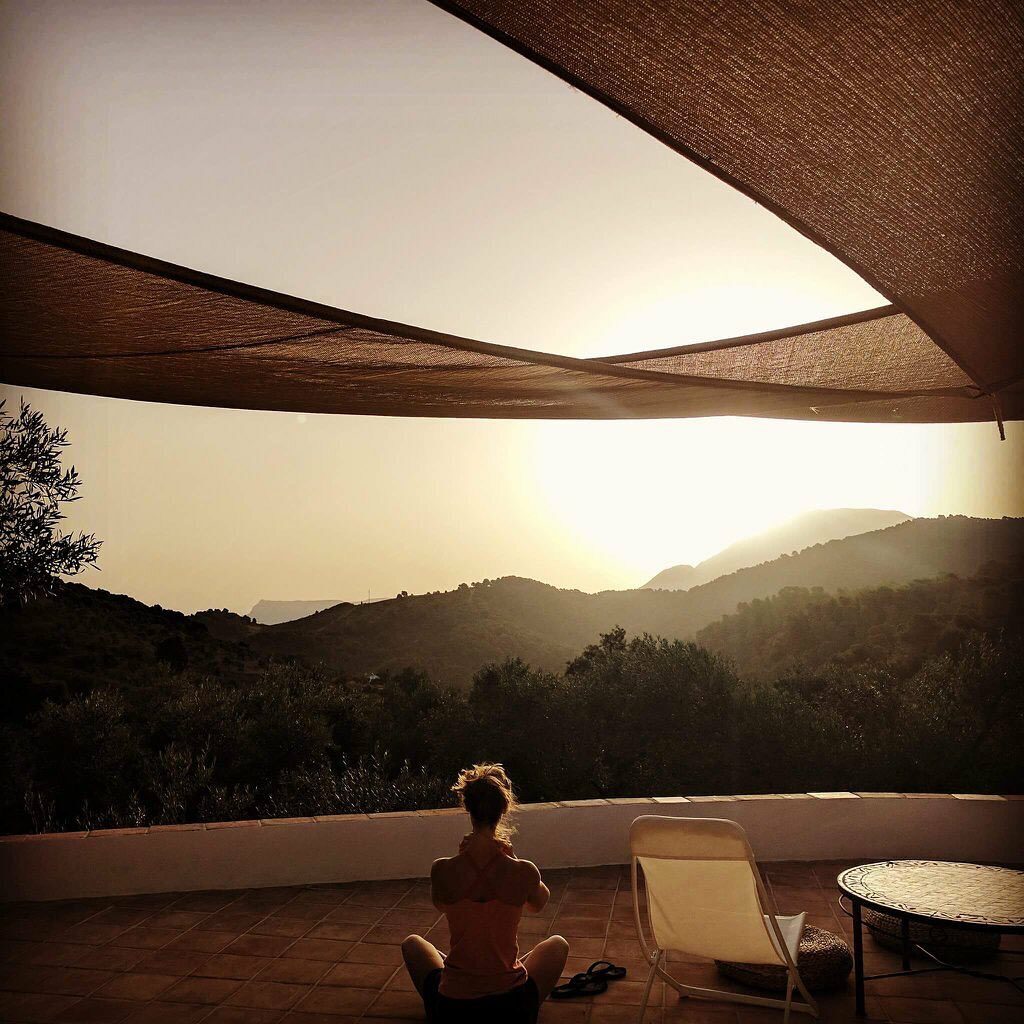 What are we going to do?

First and foremost: anything you want!
This week we'll be practicing Tantra and Yoga both individually and as a group.
Tantra is all about connection, which starts with your own loving connection to the self:
you don't have to do anything you dont feel like! Huray!

Secondly Tantra is a celebration of life, so we'll celebrate by dacing, eating, sharing and enjoyig nature.

We will start our journey together on Saturday with a welcome-ceremony.
The next 6 days we offer you a program full of Yoga, meditation and playful group-practice.
3 out of those 6 days we'll spend the afternoon discovering what Tantra is all about.
You'll get some philosophical background, but mostly you'll get to experiment.
Through dance, eyecontact, play and touch, you'll learn how connection with others and the world around you brings you closer to yourself.


During your spare time you are free to enjoy the natural spring water swimming pool, go on hikes, read,… or book an optional constellation workshop, or massage therapy.
Itinerary
7h30 – 8h15: Pranayama or meditation
8h30 – 9h30: Hatha Yoga
9h45 – 10h30: Breakfast
10h30 – 15h00: Free time + lunch
15h00 – 17h30: Free time or Applied Tantric Philosophy
18h – 19h: Yin or Partner Yoga
19u – 20u: Dinner
20h30 – 21u30: Free time or Dance Meditation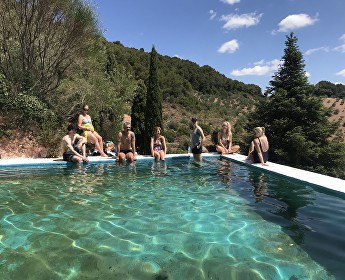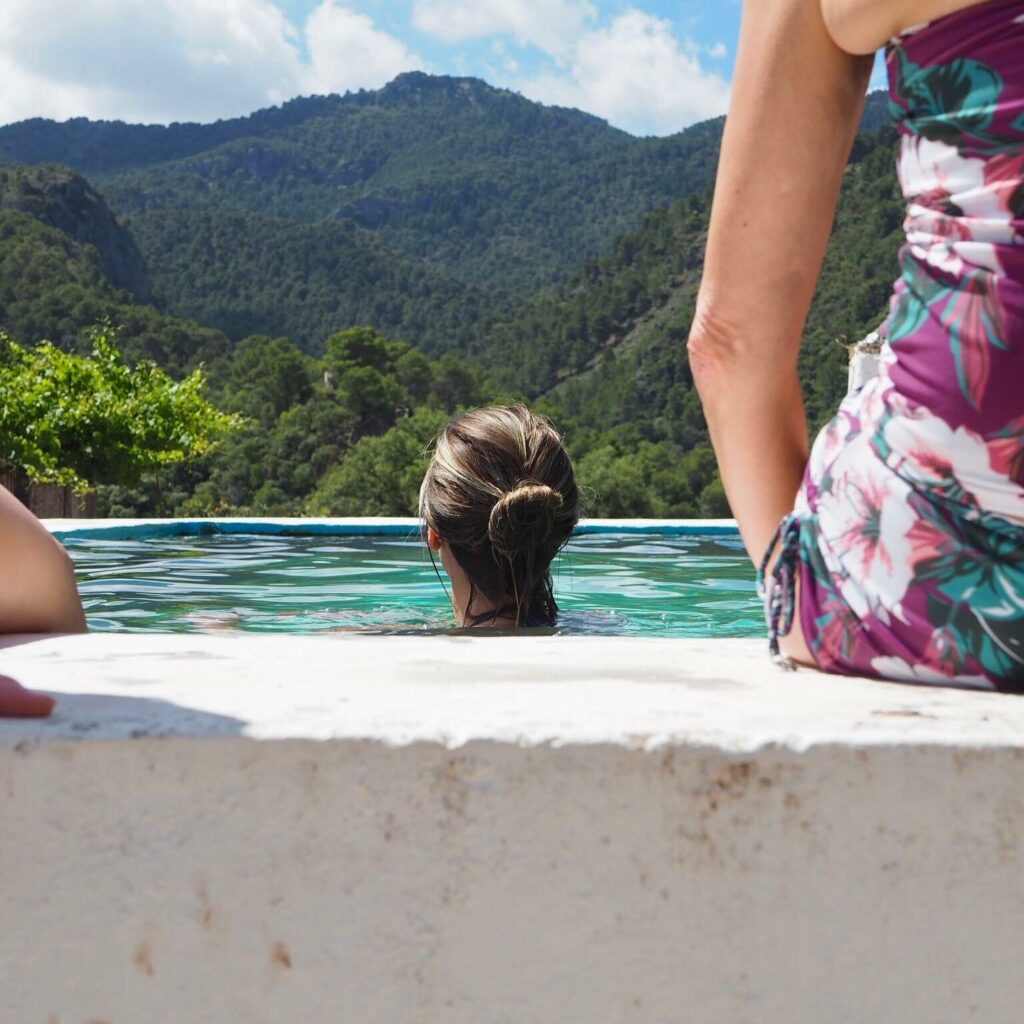 What is applied Tantric Philosophy?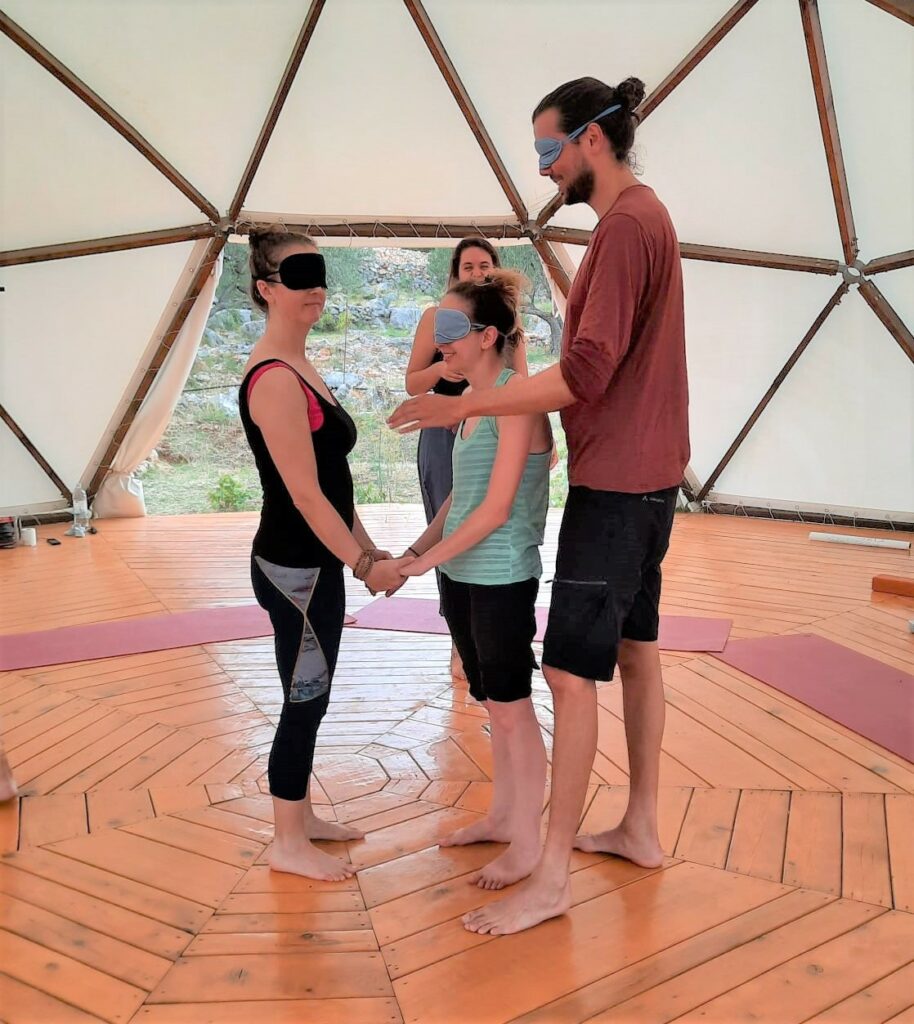 During these hours we'll dive into Tantric Philosophy.
As Tantra is an experience based philosophy, we will not spend a lot of time "lecturing". Rather we have you experience it for yourself through different types of excercises.
There is no nudity or sexual intimacy of any kind during any of our classes.
We go to the absolute basics of what Tantra is about through 3 3-hour workshops with different themes:
Boundaries, how to put them, how to respect them.
Letting go, of the ideas about ourselves that don't serve us and the expectations we put on others.
Connecting, in an open an authentic way with the world and others around us;.
.
.
Throughout this retreat, Judith and Lettemieke brought a wealth of knowledge,
together creating a beautiful balance of energies.
I felt a perfect balance in the schedule too- between the yoga, meditations,
dance, play, philosophy and much much more… as well as the free time needed to take it all in.
I found here the space to stretch my body and my mind, and to express myself in a warm and safe environment.
I feel blessed to have taken part in such a magical week that helped me to recenter and re-energize myself.
– Shaina (participant in 2021)


Where are we located?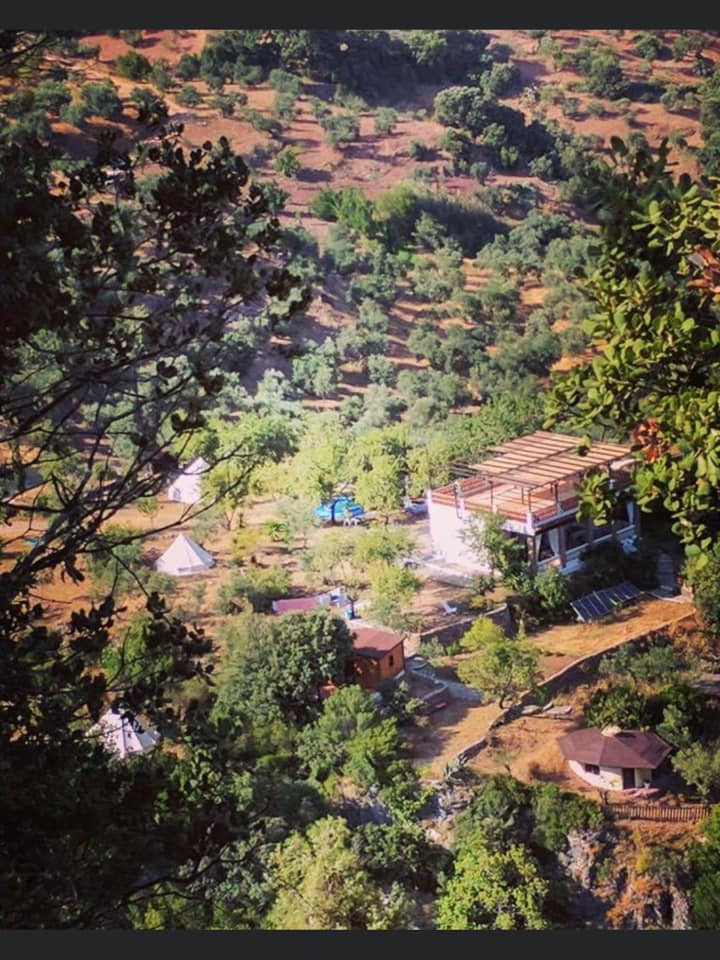 Nine kilometers into the nature reserve Sierra de las Nieves in Andalucia, lies El Convento Yoga Retreat and Holiday Centre. The reserve is only 30 minutes drive from Ronda and 70 minutes away from the regions capital Malaga.
The nearest village El Burgo is close to the reserve entrance.
Our temporary home features a unique panoramic roof practice space. The main room is an open plan kitchen and dining area. Outside a 12 meter long terrace provides opportunity to relax and enjoy the stunning nature.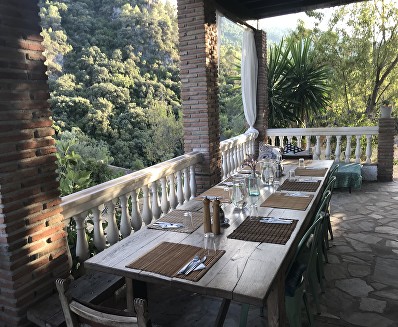 Practical information
Arrival: 24th of September 2022
Departure: 1st of october 2022
Maximum amount of participants: 14
.
Accommodation:
El Convento is an ecological retreat space featuring
5 shared huts (built in clay, wood or straw)
and 6 individual glamping tents.
On the domain there is one shared bathroom with hot water
and two cold outdoor showers aswell as several compost toilets.



Cost:

Shared hut (2 persons): €950
Private tent: €1200


(Full refund in case of cancellation due to Corona or other future pandemics)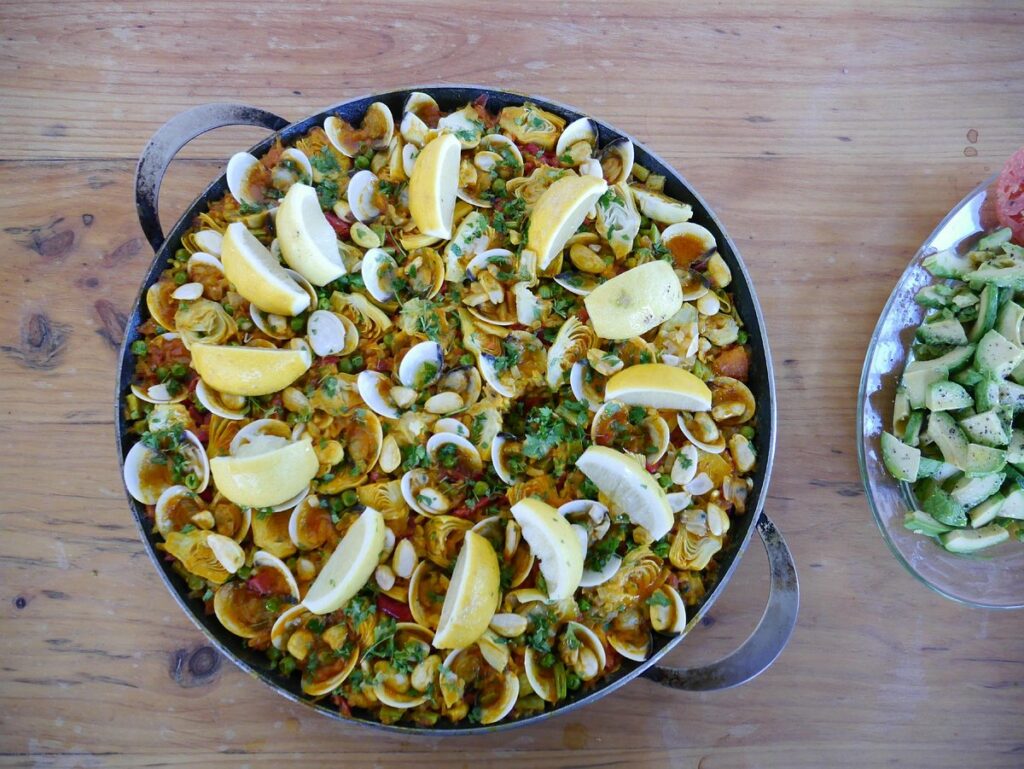 Includes:
6-day program
7 nights accomodation
7 x dinner
7 x breakfast
6 x lunch
Coffee, tea, water
Transport from "El Burgo" to the retreat center

not including:
Flights
Optional excursions
Optional massage treatments
Transport from the airport to El Burgo (public bus)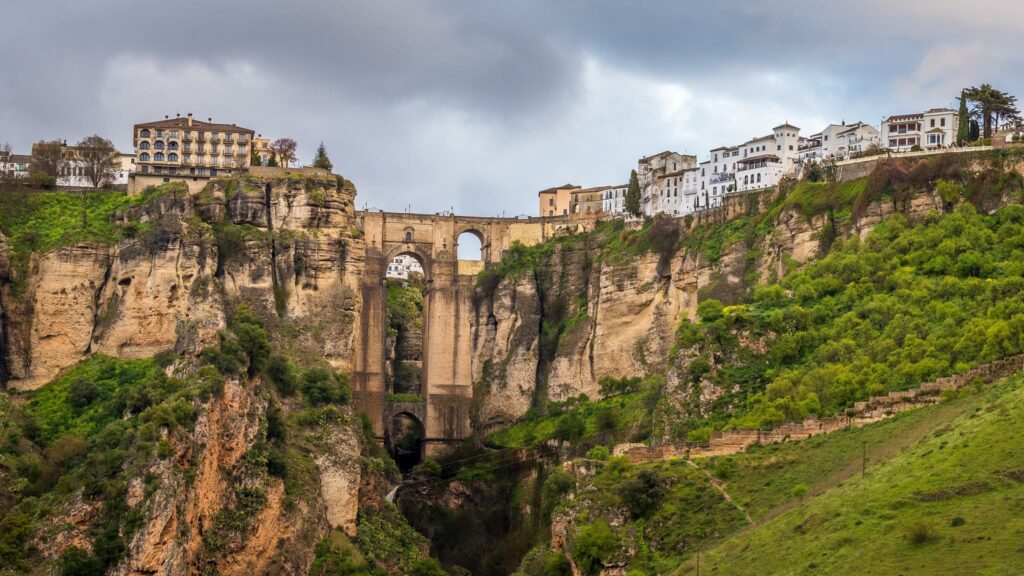 Optional excursions:
The first is Picnic lunch by the river. Travel within the Nature Park by Landrover to the cleanest spring fed river in Andalucia. Superb nature swim surrounded by flowers and beauty and then picnic lunch and relaxing. A visit to El Burgo for tapas and ice cream before returning to El Convento for the evening meal. Costs €25 person.
The second trip is to the world famous Ronda the historical capital of the mountains. Only 30 minutes drive from El Burgo through the Sierra de las Nieves. Superb for shopping, sightseeing , restaurants and culture. Cost €40 per person. Always thoroughly enjoyable.

Sign up now!